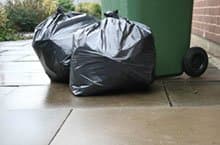 Our refuse collectors will no longer accept additional waste bags left beside the green wheelie bins we provide and the reason for this is simple. As a council, we are under increased pressure to cut the amount of waste we send to landfill and to increase recycling rates - or risk fines from the EU that would have to be met by UK taxpayers. We feel that every household should be able to fit their non-recycling refuse into the green wheelie bin, especially if you are recycling as much as possible. What can I recycle
These changes will not affect you if you do not have a wheelie bin and we already collect your waste in black bags. We'll take up to 4 of them per week.

If you do not have a grey wheelie bin or have special waste requirements, please call us on 01322 343290.
The Waste Disposal Authority for all household waste within Dartford is Kent County Council.