The following items can go into your grey recycling bin: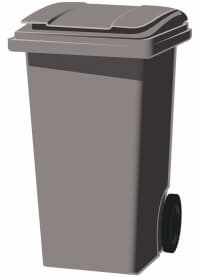 Paper (including shredded): Newspapers, magazines, catalogues, envelopes, directories
Cardboard: Packaging, food boxes, cartons, cardboard sleeves. Please flatten boxes
Household metal: Metal jar lids and tops, biscuit and sweets tins, empty aerosol cans, food and drinks cans, kitchen foil, aluminium containers
Household plastic: All plastic bottles. Please remove spray or push top lids
Plastic pots, tubs and trays (PPTT): Yoghurt pots, margarine and ice cream tubs, fruit punnets, ready meal trays. But we cannot recycle black coloured pots, tubs or trays
*We cannot recycle these items or materials – food waste, polystyrene, wood, plant pots and books. Any recycling bin contaminated with items that cannot be recycled will not be emptied.
*Please do not use black sacks for recycling, although the Council is permitted to accept additional recyclable waste in translucent sacks.
The following items can go into your black box:
Glass:

All glass bottles and jars. Metal jar lids and tops go into your recycling bin
Your recycling is really making a difference - thanks!