What to Recycle
The following items can go into your grey recycling bin: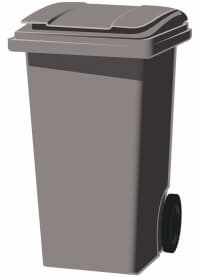 Paper (including shredded): Newspapers, magazines, catalogues, envelopes, directories
Cardboard: Packaging, food boxes, cartons, cardboard sleeves. Please flatten boxes
Household metal: Metal jar lids and tops, biscuit and sweets tins, empty aerosol cans, food and drinks cans, kitchen foil, aluminium containers
Household plastic: All plastic bottles. Please remove spray or push top lids
Plastic pots, tubs and trays (PPTT): Yoghurt pots, margarine and ice cream tubs, fruit punnets, ready meal trays. But we cannot recycle black coloured pots, tubs or trays
*We cannot recycle these items or materials – food waste, polystyrene, wood, plant pots and books. Any recycling bin contaminated with items that cannot be recycled will not be emptied.
Our recycling collectors do accept side waste providing it is less than 3 translucent sacks or neatly folded cardboard. Please ensure that side waste is presented conveniently next to your recycling bin and not obstructing the footpath.
Under Section 33 and 87 of the Environmental Protection Act (1990), Dartford Borough Council can take enforcement action against individuals that present side waste.
*Please do not use black sacks for recycling.
The following items can go into your black box:
Glass:

All glass bottles and jars. Metal jar lids and tops go into your recycling bin
Your recycling is really making a difference - thanks!