Recycling Information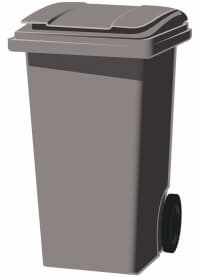 Dartford residents have a 240 litre grey wheeled bin for their dry recyclables. See what can and cannot be placed into your grey wheelie bin.
Th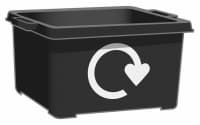 e black box takes glass bottles and jars for recycling. See what can and cannot be placed into your black box.
Our black boxes are supplied without a lid.
Both the grey recycling bin and black box for glass will be emptied fortnightly on the same day, from the front boundary of your property. View the collection dates for your refuse, recycling and garden waste or alternatively, download the recycling calendar relevant to your property here:
We will still be collecting your residual waste (including food waste) weekly, but the cost of collecting recycling waste every week too would mean double the cost to Council Tax payers and lead to twice as many collection lorries in our streets each week. See where your recyclables end up.
Please note missed collections have to be reported within 48 hours of the collection day in order for our contractors to return. Report a missed collection now.
Flats:
The Council is keen to increase the opportunities for residents of flats to recycle. Blocks of flats (public and private sector) range in size so each site must be dealt with individually.
At some of the smaller blocks, residents have their own wheeled bins, while many blocks have communal bin areas. If you are a resident living in a flat within the borough, please ensure that you utilise these communal bins correctly.
Side Waste:
Our recycling collectors do accept side waste providing it is less than 3 translucent sacks or neatly folded cardboard. Please ensure that side waste is presented conveniently next to your recycling bin and not obstructing the footpath.
Under Section 33 and 87 of the Environmental Protection Act (1990), Dartford Borough Council can take enforcement action against individuals that presents unnecessary or excessive side waste.
Garden Waste Recycling and Composting:
Residents are no longer permitted to put garden waste into their green refuse wheeled bin. Please refer to our Garden waste page for more information.
Batteries:
The Council does not run a service for the recycling of batteries and they should not be placed in a grey bin. Battery manufacturers are required to run take back schemes and battery bins are available in many high street stores and supermarkets. There is even a facility to recycle batteries at the Civic Centre if you wish to do so.
Textiles:
The Borough has over 15 recycling sites offering recycling facilities which include textiles, these are managed independently by the charity depicted. Find your nearest facility.